---
March 2022 – NASP Spring Conference

Yost & Baill attorneys were thrilled to once again attend a NASP conference in person March 16-18 in Tucson, Arizona.  Kelly Micheletti co-chaired the successful spring conference where Attorney David Taylor presented on "Leading Through Mass Tort Subrogation Litigation" and Kelly Micheletti and Teirney Christenson participated in a panel discussion on "Transitions in Leadership."  It was wonderful to see all our friends at NASP again!  We look forward to seeing you all in Marco Island this November!
September 2019 – Jeff Baill 2019-2020 President of the Hennepin County Bar Association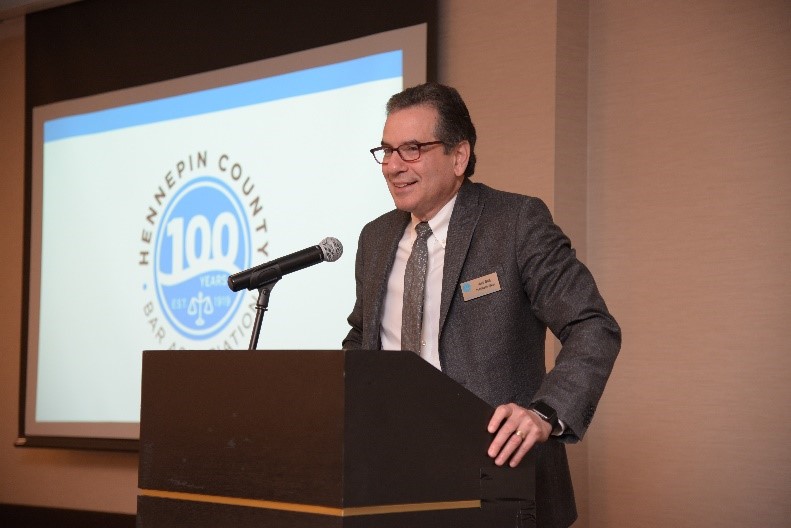 All of us at Yost & Baill are very proud of Jeff Baill, who accepted the leadership gavel and will be the next President of the Hennepin County Bar Association. Jeff is serving a one year term through June 2020. Congratulations, Jeff! Read more here.
July 2019 – Amazon a "Seller" for Purposes of Strict Liability
In a case of first impression in the Western District of Wisconsin, the District Judge agreed with Yost & Baill attorney Teirney Christenson's argument that Amazon is a "seller" under Wisconsin Statute 895.047(2) and is, therefore, strictly liable for damages caused by a product purchased on Amazon.com when the manufacturer cannot be served in the State of Wisconsin. Recognizing Amazon's deep involvement with every transaction on its website and that Amazon provided the only conduit between the Chinese product and the American marketplace, the Judge held as follows:
"Amazon has transformed retailing in the United States, and in the process it has taken on many roles that had been served by brick-and-mortar stores, shopping malls, and wholesalers and distributors. This has been a boon to consumers, because through Amazon consumers can purchase a vast range of products, supplied by manufacturers and sellers across the globe, that would otherwise not be available to Wisconsin buyers. But what recourse does a Wisconsin buyer have if one of these third-party products is defective and causes injury or damage? If, as in this case, the manufacturer and the third-party seller are foreign entities that cannot be sued in Wisconsin courts, Amazon's answer is that there is no recourse.
This answer cannot be squared with Wisconsin's law of strict product liability. Particularly when Amazon provides order fulfillment services through its FBA program, Amazon is properly considered a seller for purposes of Wisconsin strict product liability law for products sold by third parties through Amazon.com. And Amazon is not immune under the Communications Decency Act for claims that it sold a defective product."
The entire decision can be found here: https://newmedialaw.proskauer.com/files/2019/07/State-Farm-v.-Amazon.com_.pdf
March 22-23, 2018 – NASP Subrogation Litigation: Skills & Management Conference – New Orleans, LA
Teirney Christenson participated in a two-part Keynote Presentation at the upcoming NASP Lit Skills Conference titled, "Jury Research Focus Groups – Hitting The Bull's-Eye: Putting Your Subrogation Case in Focus." Teirney co-presented with Paul Scoptur and William Hoffmann.
November 2017 – Jeff Baill Recipient of Lifetime Achievement Award
The National Association of Subrogation Professionals recently awarded Jeff Baill its Lifetime Achievement Award for outstanding vision, dedication, and commitment to the association. The award was presented to Jeff at NASP's 2017 National Conference in Austin, Texas. Congratulations, Jeff! 
---
News/Events/Publication Archive
October 31, 2016 – Partner Anamarie Reyes Kolden featured in the Minnesota Hispanic Bar Association Newsletter.
October, 2016 – Nicole Kustermann published an article in the NASP Subrogator titled, "Don't Let Your Credit Right Impede Settlement" and an article in Claims Management titled, "Why Multiple Levels of Collaboration Are Critical for Recoveries"
July 1, 2016 – Larry Baill, a Founding Partner of Yost & Baill, LLP, Retires  – Larry Baill, a founding partner of Yost & Baill, retired from his full time practice this summer! He has dedicated his practice to subrogation for the last 35 years, handling every type of claim including auto, fire, health insurance, and worker's compensation.  He has also been involved in many high profile subrogation cases around the country. Larry co-founded NASP with his brother, Jeff. He served on NASP's first board of directors, has served as editor of the Subrogator, and has been a frequent presenter at NASP conferences. Larry was one of the first attorneys to be awarded NASP's CSRP designation. He is also a two-time recipient of NASP's President's Award, acknowledging his service to NASP and the subrogation industry. Larry plans to continue his world travels and photography adventures in retirement. We wish Larry the best in his retirement, but know that he will always be engaged in the practice of law in some capacity at Yost & Baill!
June 1, 2016 – Jeff Baill was appointed Secretary of the Hennepin County Bar Association. Jeff's appointment is the beginning of a five-year leadership track which will lead to his appointment as President for the 2019-2020 bar year.
March 12, 2016 – Jeff Baill was awarded the inaugural USTA Volunteer Exceptional Service Award
March 12, 2016 – San Diego, CA: USTA Annual Awards Luncheon
Jeff Baill was the recipient of the inaugural United States Tennis Association Volunteer Exceptional Service Award!
February 17, 2016 – Minnesota Supreme Court Upholds Right to Subrogation Against Tenant. In a 4-3 decision, the Minnesota Supreme Court upheld the right of subrogation by a landlord's insurer against a tenant. Steven Theesfeld of Yost & Baill's Minneapolis, MN office successfully argued that de novo is the correct standard of review on a district court decision dismissing an equitable claim where the facts are undisputed. The Court affirmed the Minnesota Court of Appeals with respect to the standard of review, and further affirmed the Court of Appeals' holding that the district court misapplied the case-by-case analysis set forth in RAM Mutual. Ins. Co. v. Rohde, 820 N.W.2d 1 (2012). The Court held that the plain language of the parties' lease created a reasonable expectation that the respondent-tenant would be liable for damage to the tenant's own unit, but declined to extend liability to other property belonging to the landlord.
January, 2016 – Jeff Baill published an article in Claims Management, the online publication of Claims and Litigation Management Alliance titled, "Inextricable Ties Between Claims and Subrogation Departments"
November, 2015 – Steven Theesfeld published an article in the NASP Subrogator titled, "The Agelessness of Abraham Lincoln's Advice to Attorneys"
October, 2015 – Attorneys Steven Theesfeld of Yost & Baill and Marie Cheung-Truslow of Insurance Subrogation Group co-authored "Bringing Subrogation Actions," chapter 160 in the New Appleman on Insurance Law Library Edition. New Appleman is a comprehensive insurance law treatise consisting of thirteen volumes. New Appleman on Insurance Law Library Edition is published by LexisNexis and can be found here.
January-February 2015-Yost & Baill was featured in Minnesota Claims, "Yost & Baill Observes 35th Year With Sculpture"
November, 2014 – Jeff Baill wrote an article for The Hennepin Lawyer titled, "Confessions of an Insurance Subrogation Attorney"
July, 2014 – Ben Sorenson wrote an article for the NASP Subrogator titled, "Tricks of the Trade: Tips for Settling Auto Claims with Pro-Se Defendants"
September 30, 2013 – Yost & Baill attorneys and staff participated in a Twin Cities Habitat for Humanity project in North Minneapolis. Attorneys David Yarosh, Dan Boerigter, Nicole Kustermann, Dave Taylor, Anamarie Reyes Kolden, Michelle Hurley, office manager James Fowler, and staff Renee Rice, Ginger Palmquist, and Shani Sudduth participated in the project. Volunteers caulked windows, painted garage roof gables, painted doors, installed baseboard trim, hung shower and towel rods, hung closet storage systems, and completed other finishing projects throughout the residence.